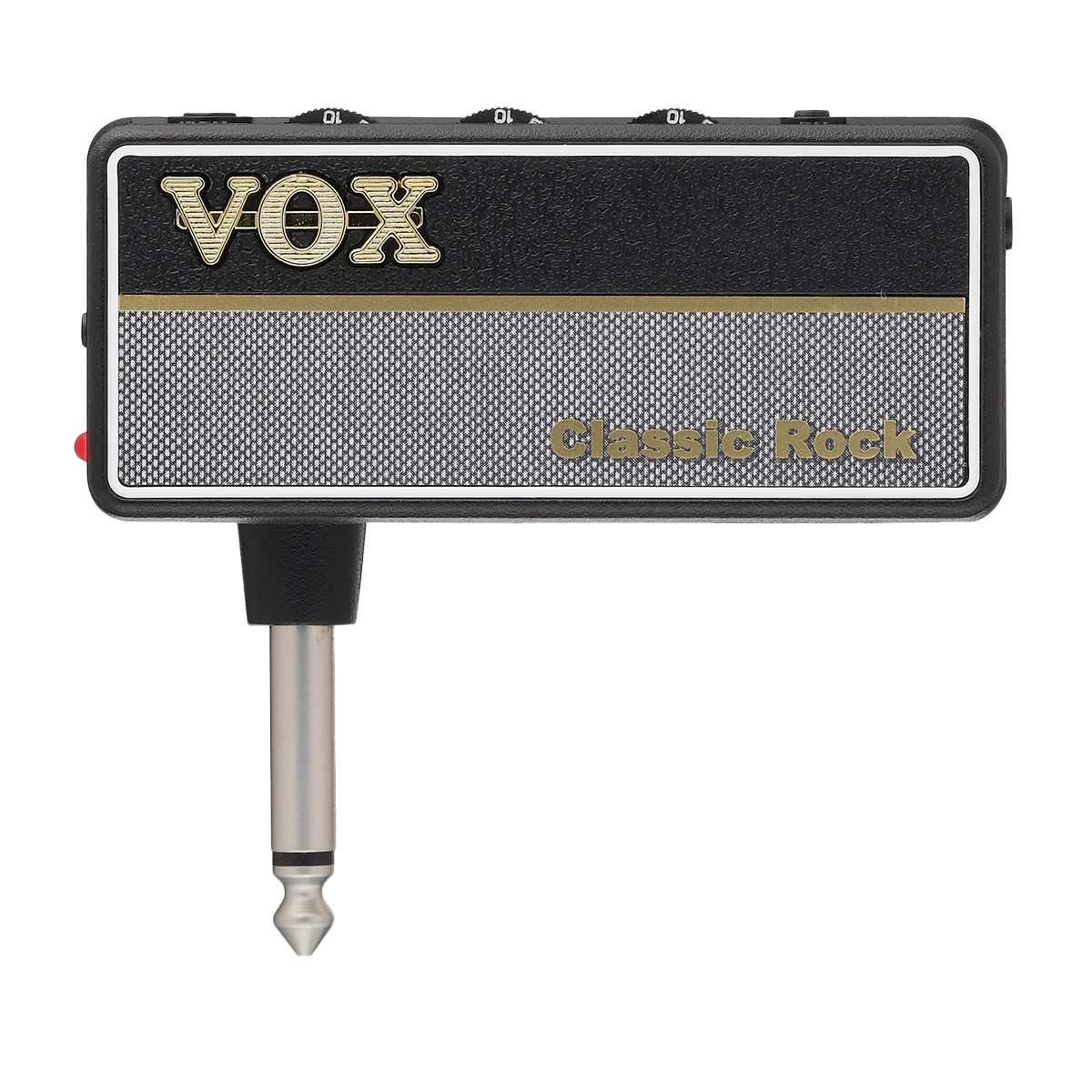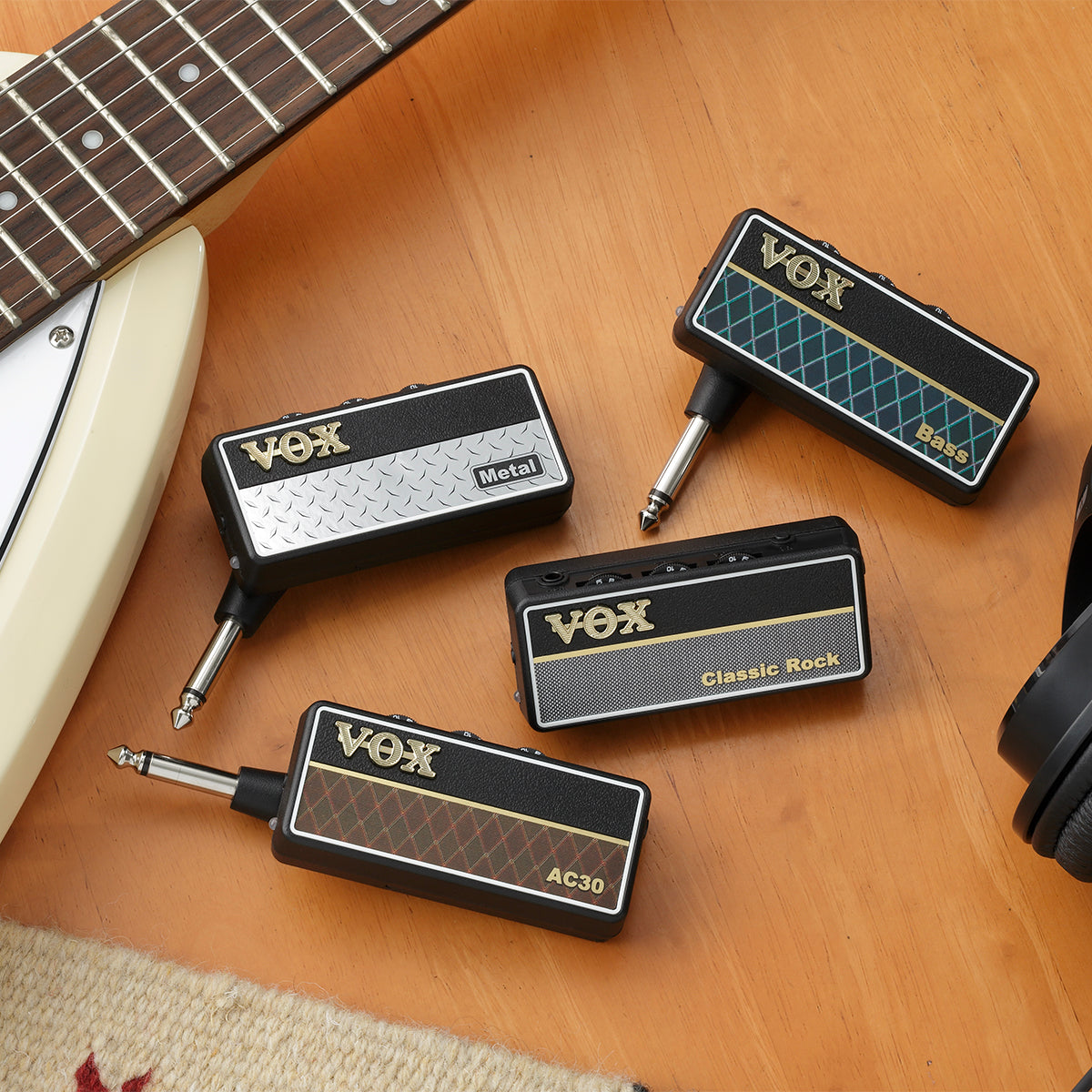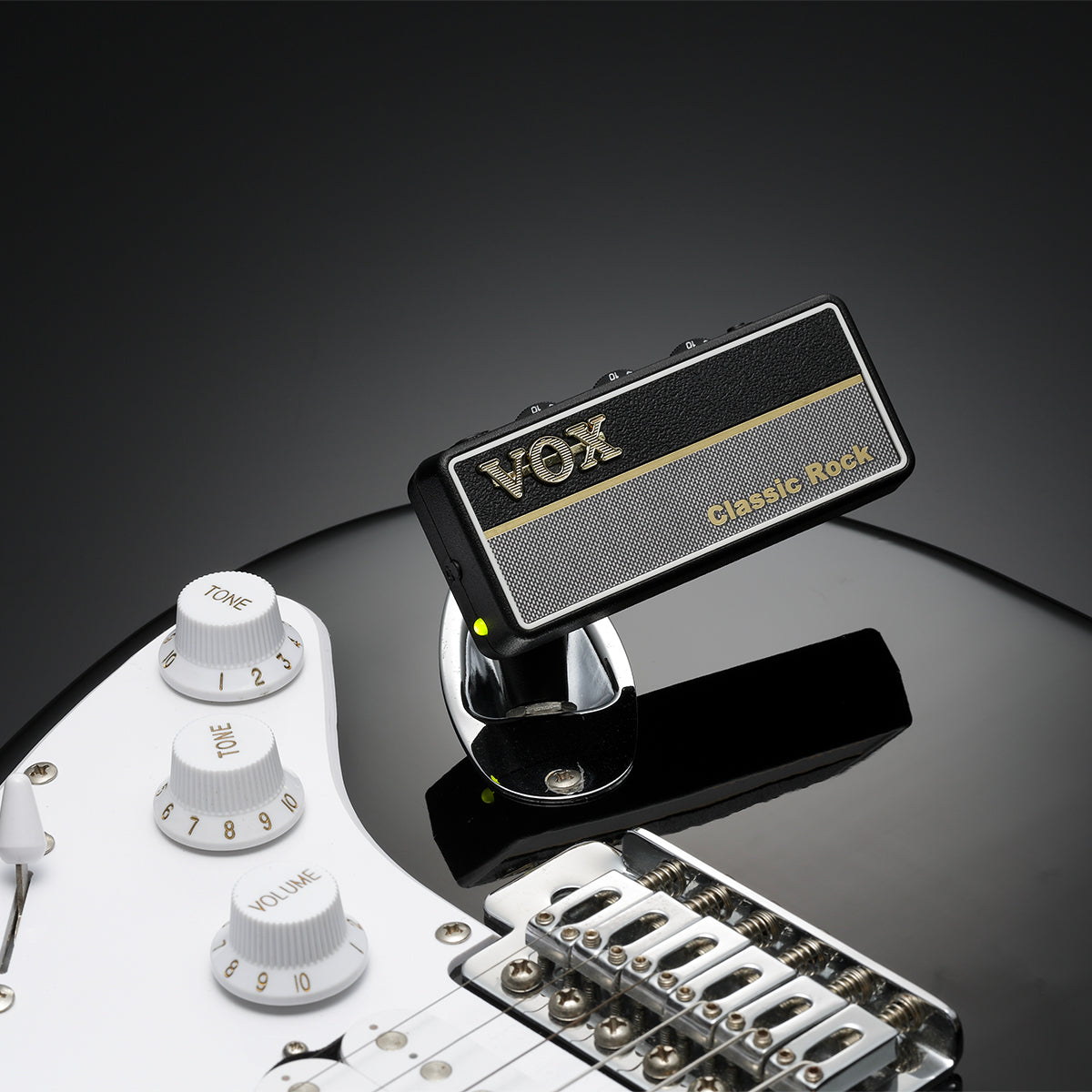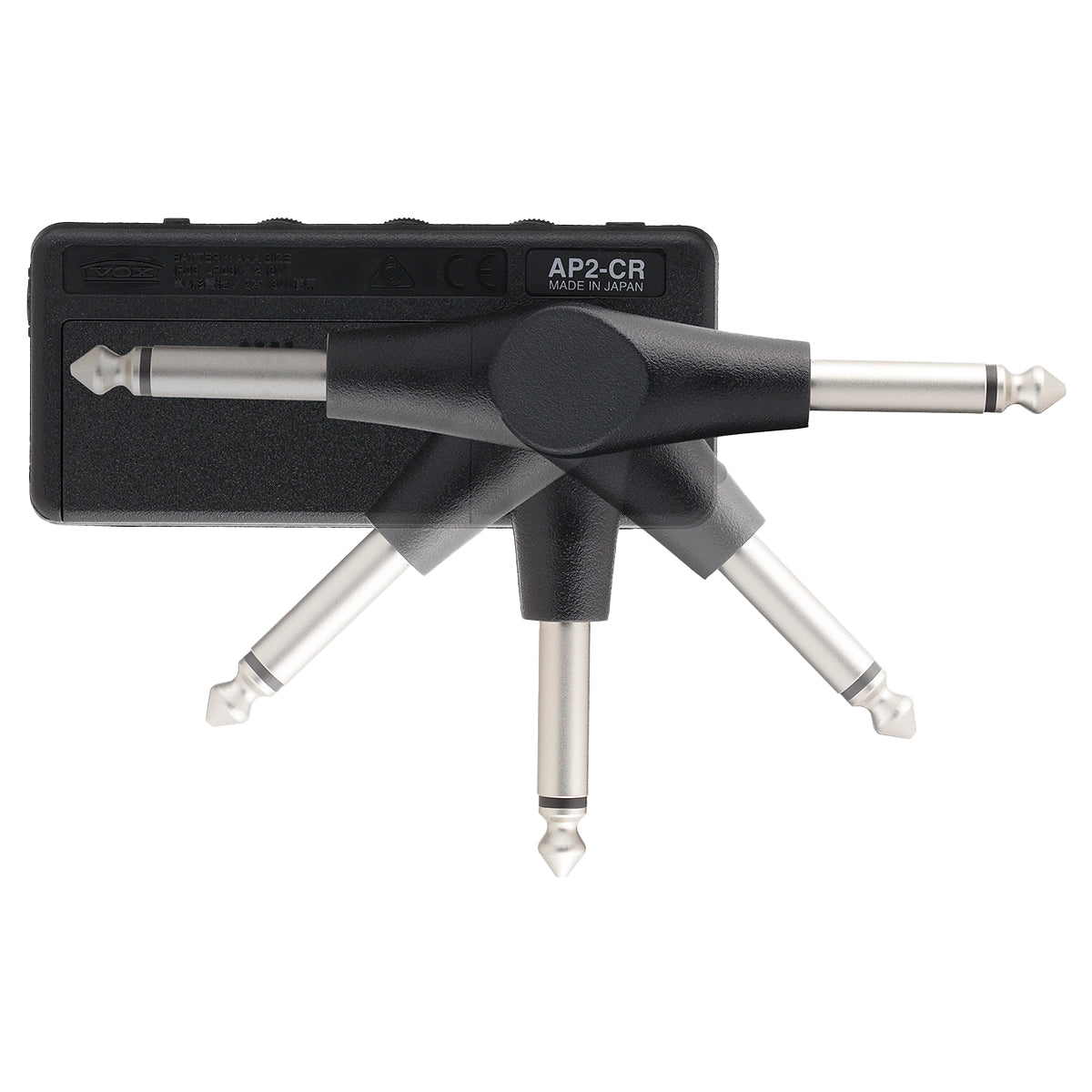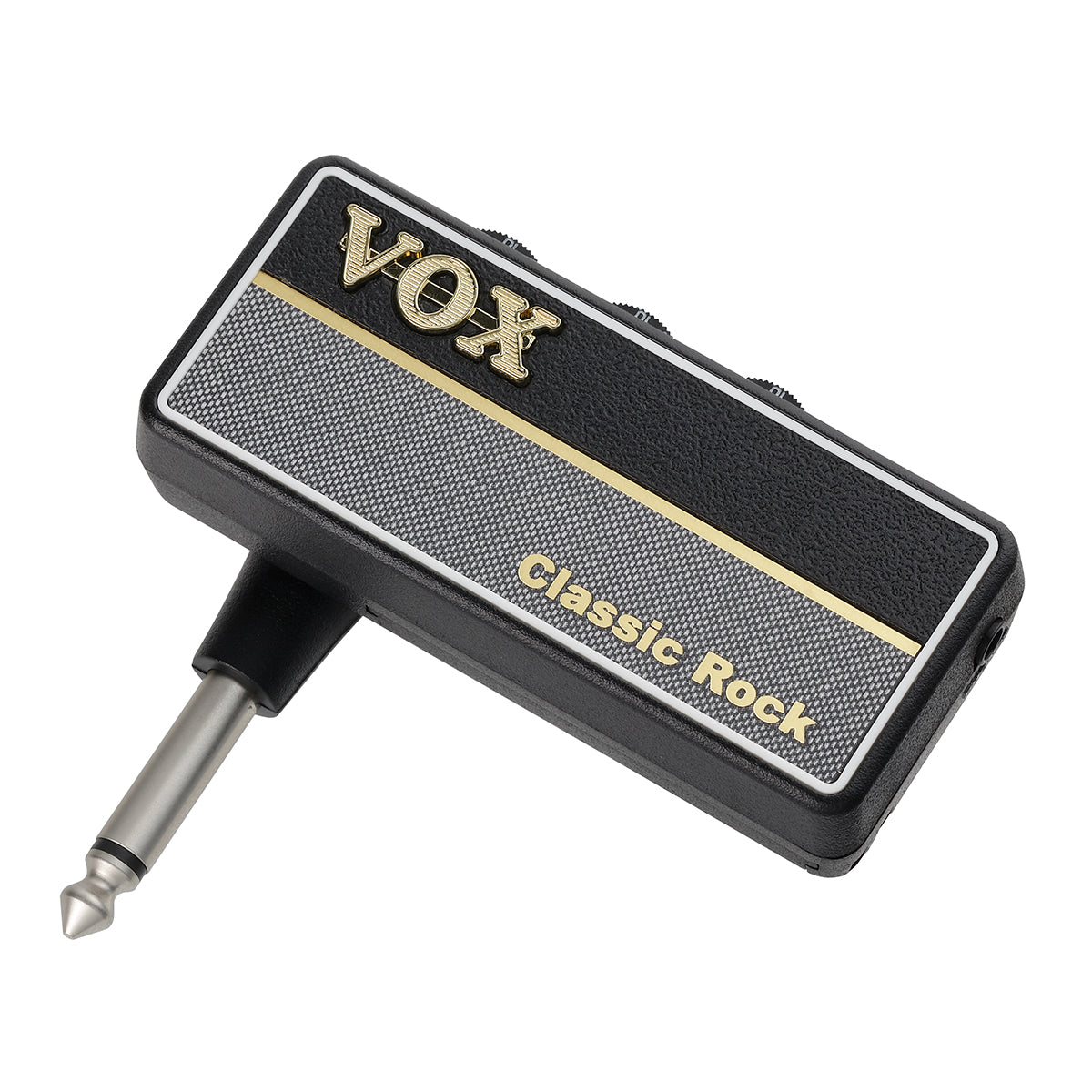 amPlug Classic Rock
Pocketable headphone amp with the tones of a British full stack
Practice like a pro with the amPlug Classic Rock, the must-have headphone guitar amplifier! Whether you're a seasoned guitarist or just starting out, amPlug Classic Rock is the perfect solution for authentic amplifier sound - simply plug it directly into your guitar and experience the power and crunch of a British full stack amp!
The amPlug Classic Rock's signal path is built around an analog circuit, providing a clear and present sound that will make your guitar playing sound amazing. Choose from three amp modes - crunch and two mid boost settings. In addition, the amPlug offers nine selectable effects, with three types of Chorus, Delay, and Reverb.
The folding plug mechanism that rotates 180 degrees ensures that the amPlug Classic Rock will fit any guitar, and the auto power-off function and up to 17 hours of battery life makes it super easy and convenient to use. Plus, there's even an AUX input for jamming along with your favorite tunes!
Compact and easy to use, the amPlug Classic Rock is the simplest way to get serious sound anytime, anywhere. Perfect for any guitarist, it occupies virtually no space and will take your silent practice to the next level!
Headphone amp with the sound of a British full stack
Analog circuitry for clear and articulate tones
New folding plug mechanism rotates 180 degrees to fit any guitar
Play anytime, anywhere with up to 17 hours of battery life
Nine selectable effects (Chorus x 3, Delay x 3, Reverb x 3)
---
Products purchased directly from VOX Amplification US qualify for protection under warranty. Read terms: Limited Warranty
Free shipping available, expedited shipping rates displayed at checkout. Read terms: Shipping Policy
We accept returns within 14 days for material or manufacturer defect. Read terms: Return Policy
CONNECTIONS
1 x Aux Input Jack
1 x Headphone Jack

CONTROLS
On|Off|Standby, Volume, Gain, Tone, FX Controls

EFFECTS
Chorus, Delay, Reverb

POWER SUPPLY
2 x AAA Batteries

BATTERY LIFE
11 hours (FX|Rhythm on)
17 hours (FX|Rhythm off)

MODELS
AP2AC – Amplug 2 AC30
AP2BL – Amplug 2 Blues
AP2BS – Amplug 2 Bass
AP2CL – Amplug 2 Clean
AP2CR – Amplug 2 Classic Rock
AP2LD – Amplug 2 Lead
AP2MT – Amplug 2 Metal
DIMENSIONS (W X D X H)
86 x 38 x 31 mm | 3.39 x 1.50 x 1.22 inches (with plug in storage position)
WEIGHT 40 g | 1.41 oz (without batteries)