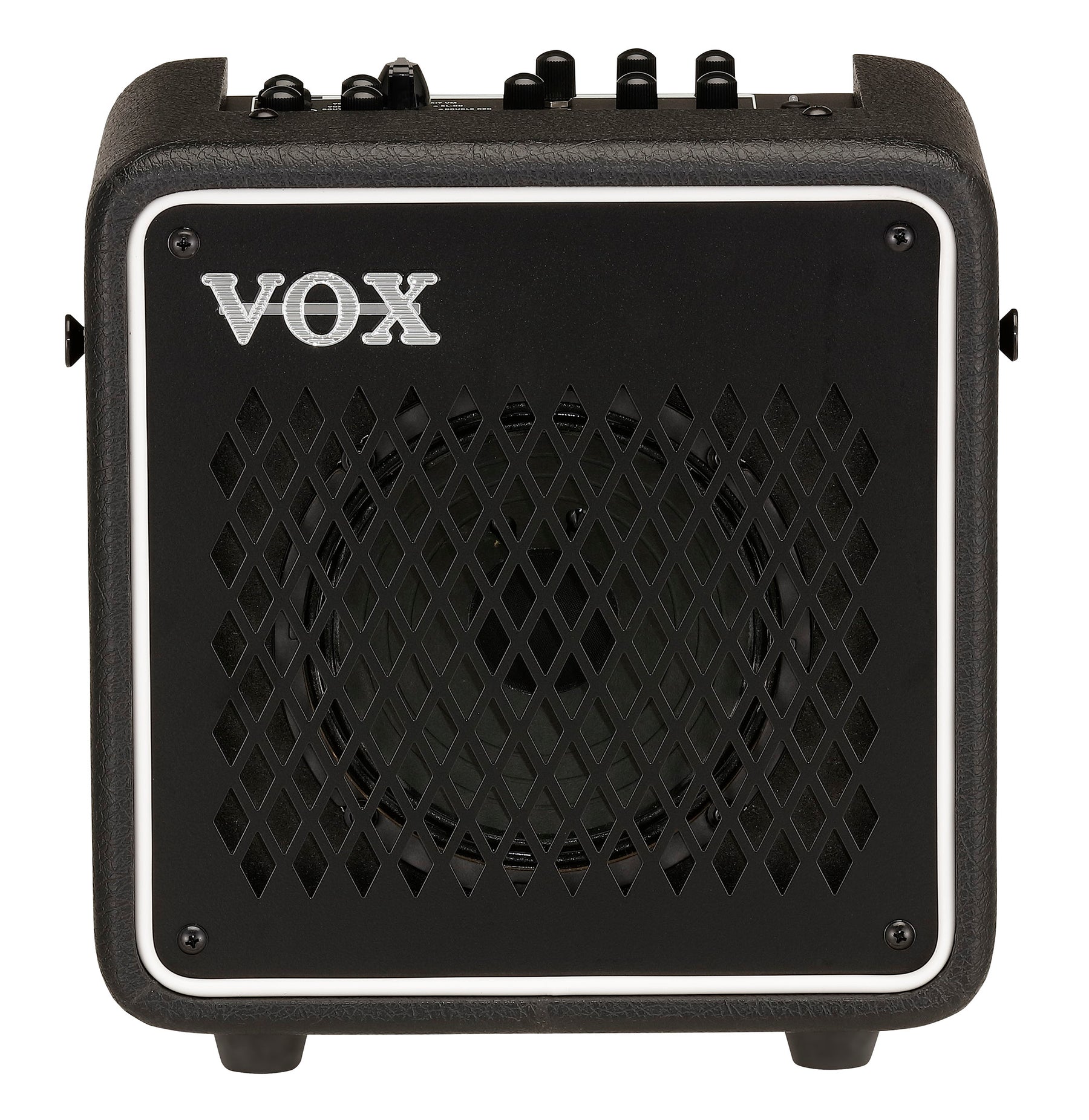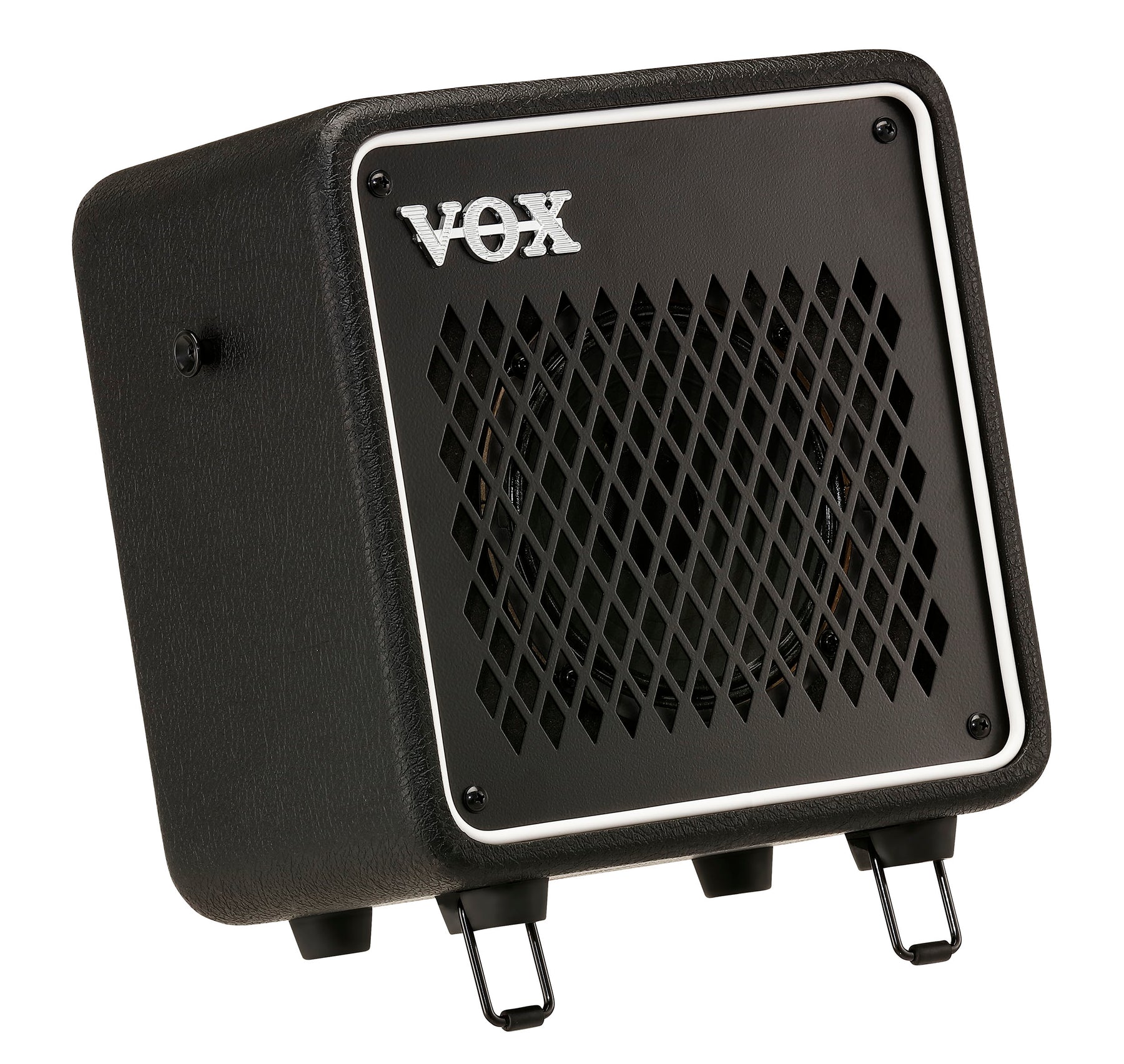 Mini Go 10
The VOX Mini Go amps re-imagine the Mini series amps with the ability to be powered by any portable USB battery. A revamped rhythm function and looper have been added as well as updated amp models and effects.
The VOX Mini Go 10 offers a rhythm function is perfect for practice and songwriting, and has been updated with 33 rhythm patterns. Along with the looper function, with 40+ seconds of loop time, the rhythm function is perfect for buskers. Updated amp models and effects have been added for more natural and responsive playing. The Mini Go amps can be powered by any portable USB battery that fits the correct output specs, making it easy to power your amp anywhere
10 Watt Modelling Amplifier
Built-in looper with 40+ seconds of record time
Revamped rhythm function with 33 patterns
Can be powered by portable USB battery
Power reduction to 1/10 or 1/100
Updated amp models and effects, with new vocoder and octave effects
Tiltback mechanism to use amp as a monitor
---
Products purchased directly from VOX Amplification US qualify for protection under warranty. Read terms: Limited Warranty
Free shipping available, expedited shipping rates displayed at checkout. Read terms: Shipping Policy
We accept returns within 14 days for material or manufacturer defect. Read terms: Return Policy
AMP MODELS
11

EFFECTS
8

RHYTHMS
33

TEMPO
40-240 bpm

LOOPER RECORDING TIME
0.25-45 sec

E TUNER
E1-E6 (41.2 Hz-1318.5 Hz)

INPUT/OUTPUT
INPUT jack, MIC IN jack, AUX IN jack, PHONES jack, FOOT SW jack, DC jack, DC 5V IN jack

OUTPUT POWER
Max 10 W RMS 16 ohms

SPEAKER
6.5 inch 16 ohms

INCLUDED ITEMS
AC adaptor (DC 12V), Carrying strap.

ACCESSORIES (SOLD SEPARATELY)
VFS3 Foot switch

POINTS OF CAUTION WHEN USING A MOBILE BATTERY:
Use a mobile battery with a power output of 1.5 A or greater.

– Depending on the mobile battery and USB cable used, the amp may not turn on or you may not get enough output.

– The output sound may be distorted or noisier when using a mobile battery.

– You may hear noise when powering this amp with a commercially available USB AC adapter. In this case, use a mobile battery.

– This jack is for input only. This jack cannot be used to supply power to another device.

– This amp does not support USB Power Delivery (USB PD).

* All product, company, and standard names are trademarks or registered trademarks of their respective holders.

* Appearance and specifications of products are subject to change without notice.
DIMENSIONS (W X D X H)
296 x 210 x 294 mm / 11.65″ x 8.27″ x 11.57″
WEIGHT
4.5 kg/9.92 lbs.
POWER SUPPLY
AC adaptor (DC 12V) or mobile battery (DC 5V – Commercially available)

POWER CONSUMPTION
1 A

MOBILE BATTERY
5 V/3 A*