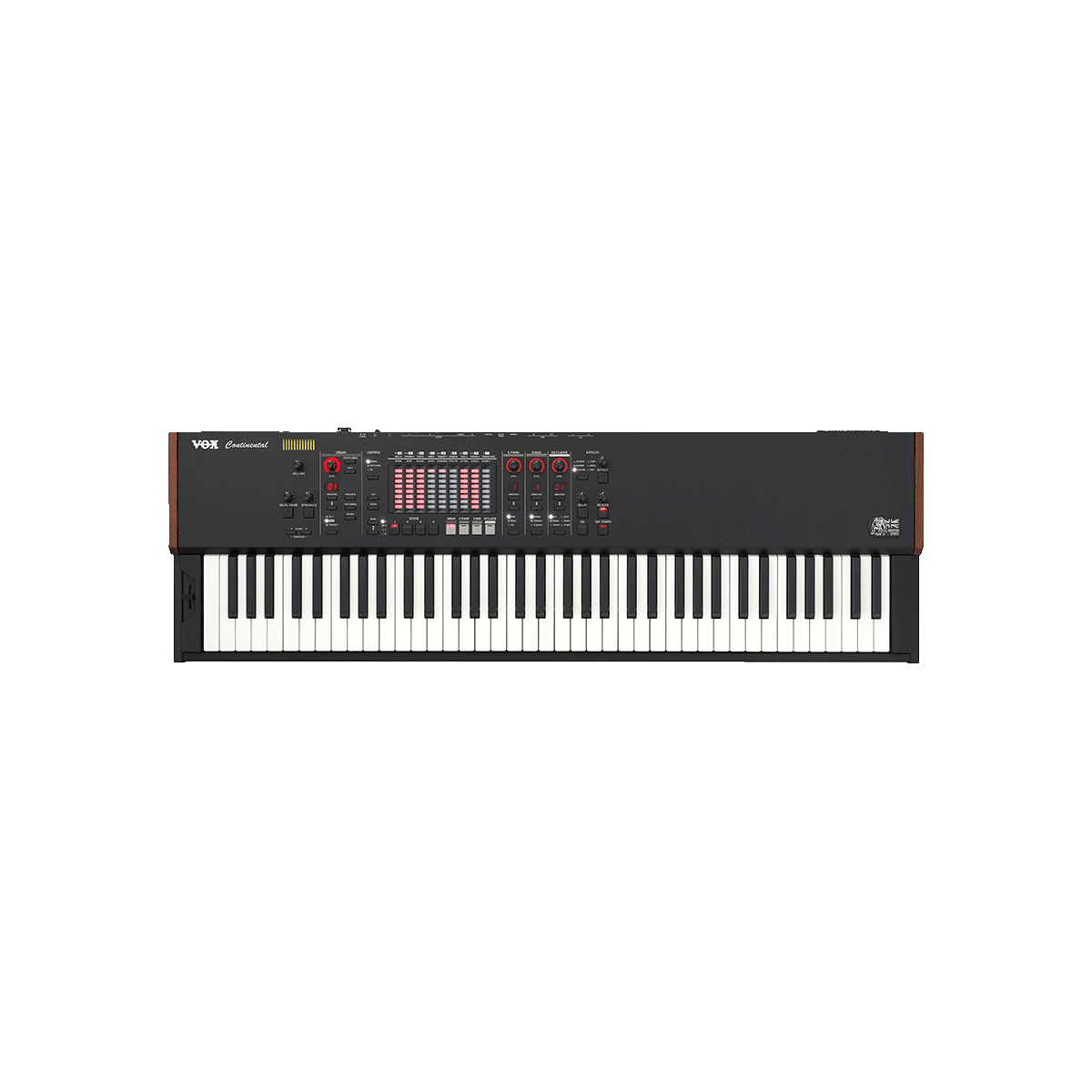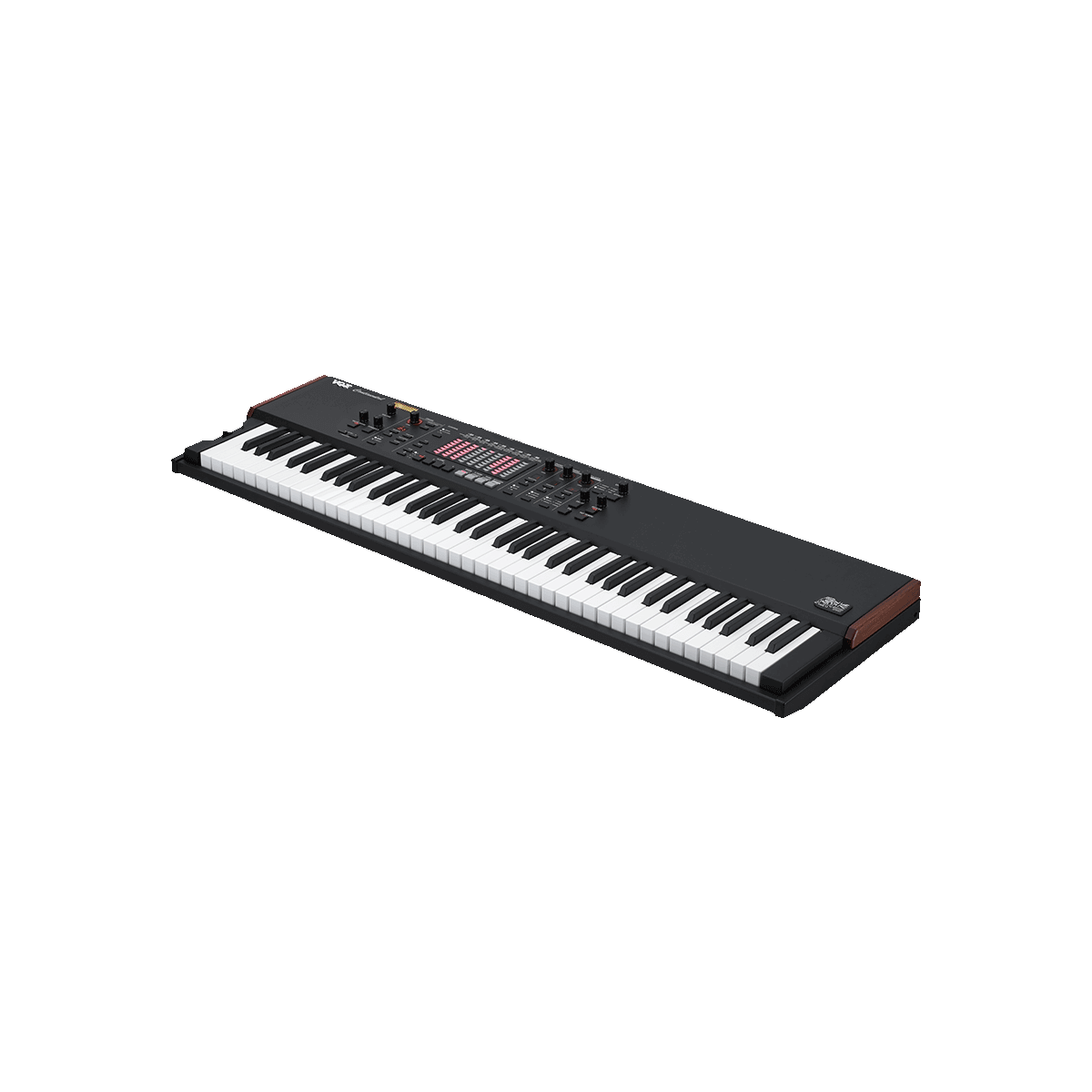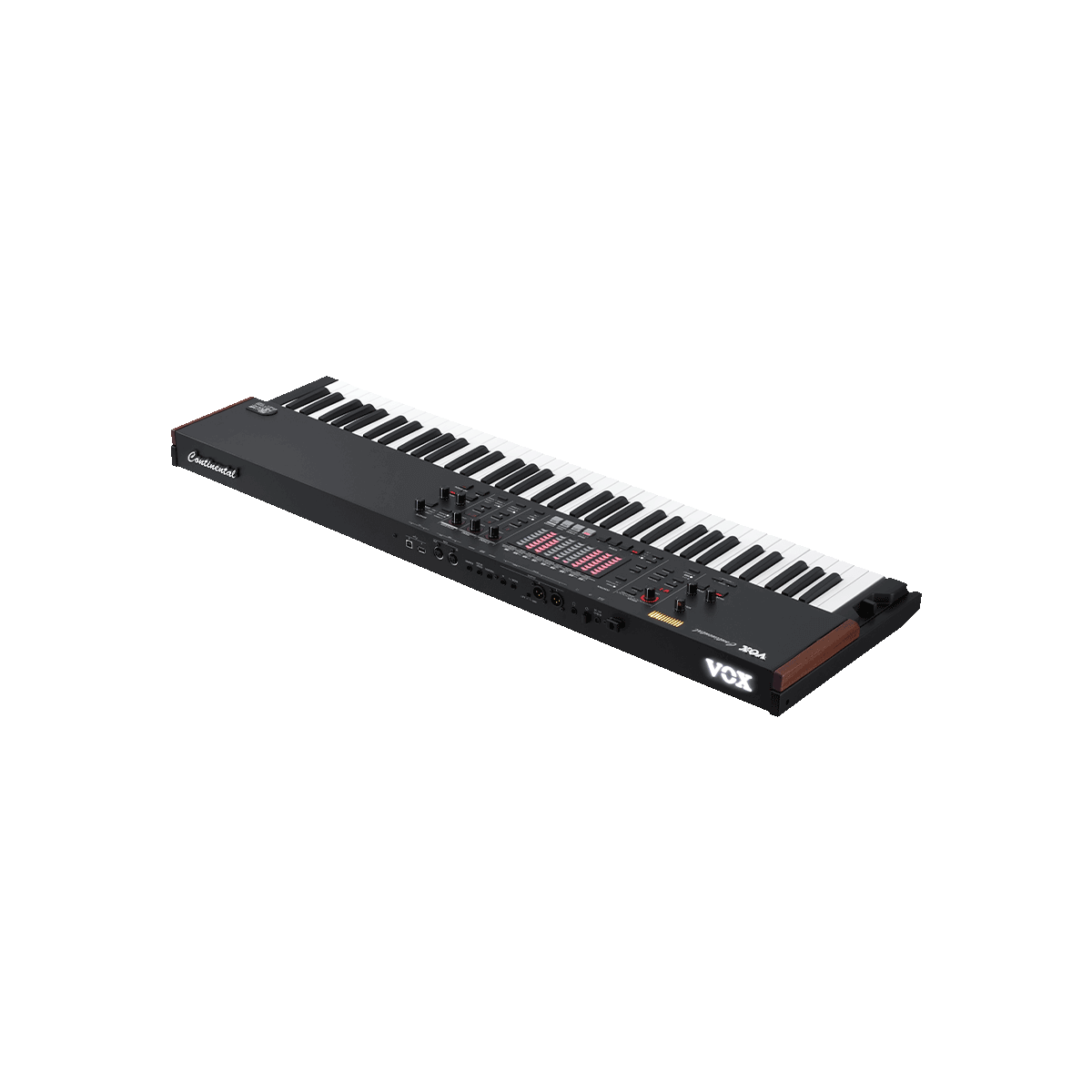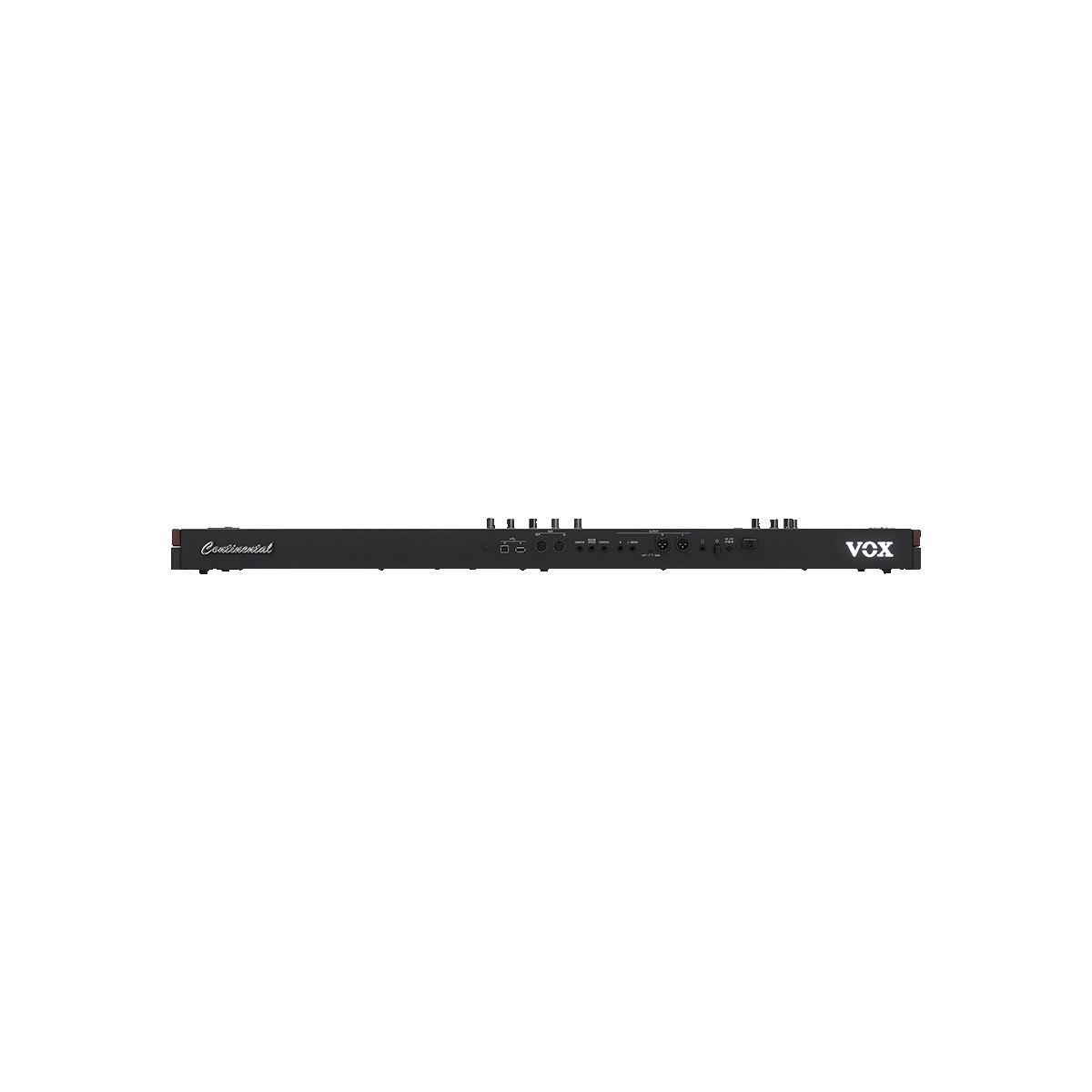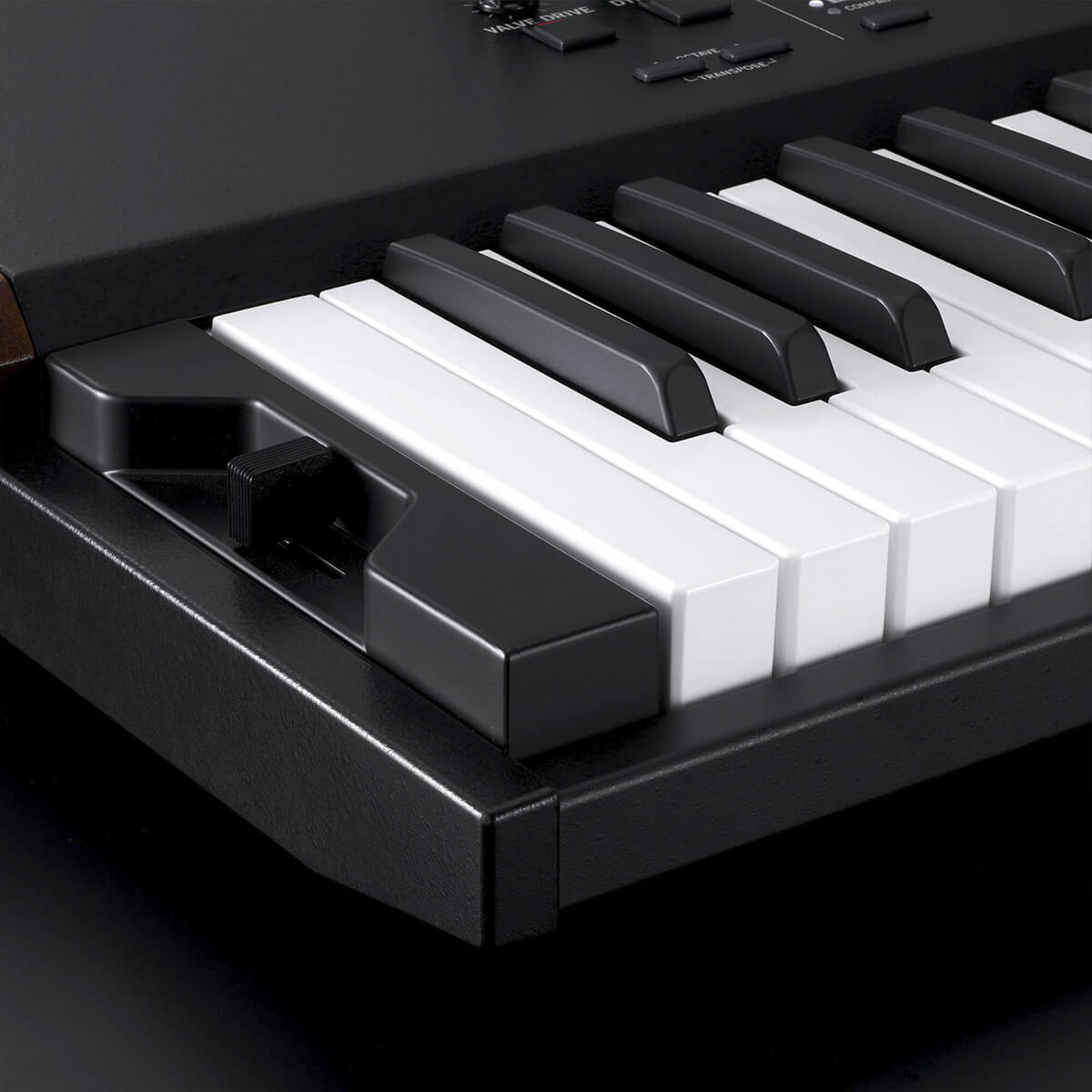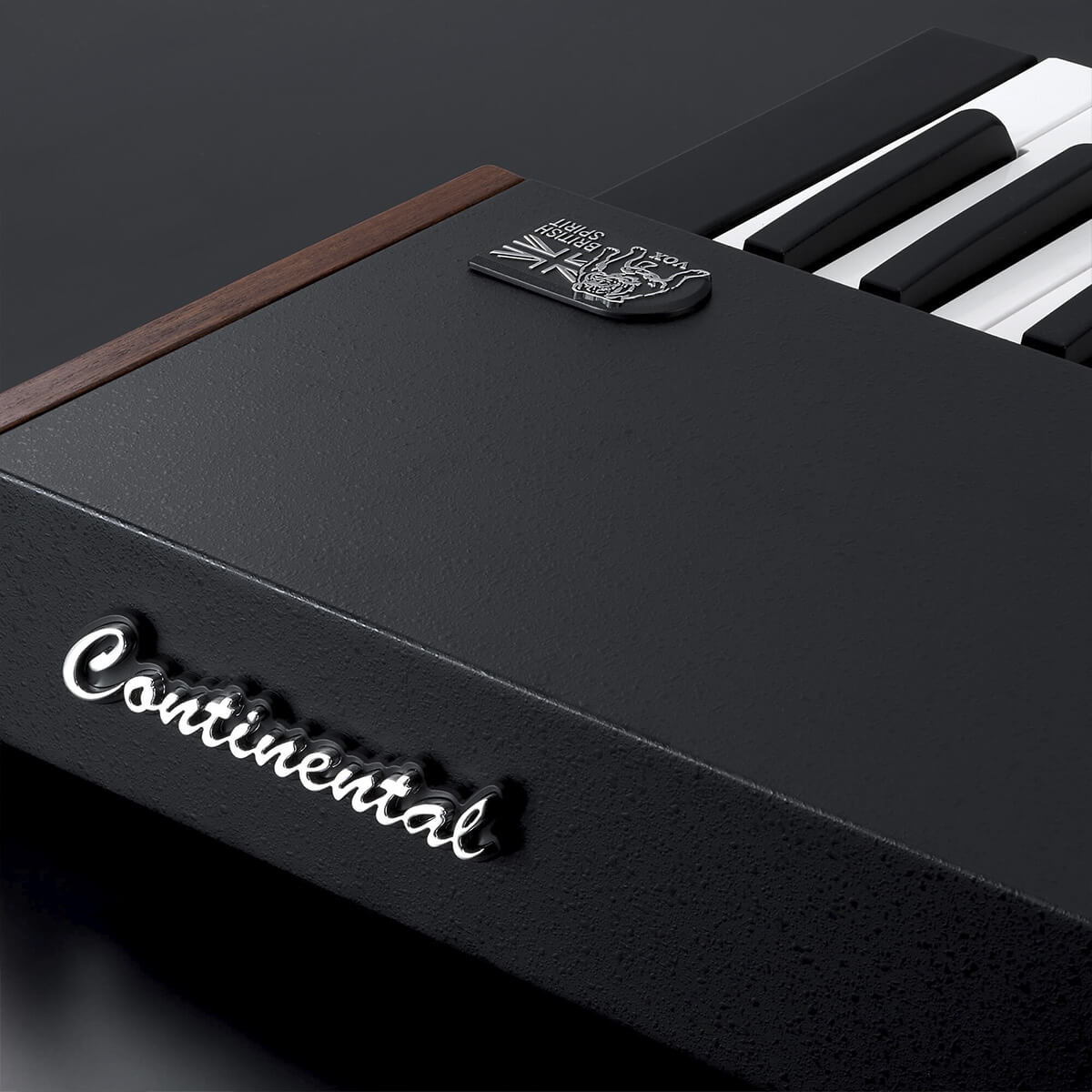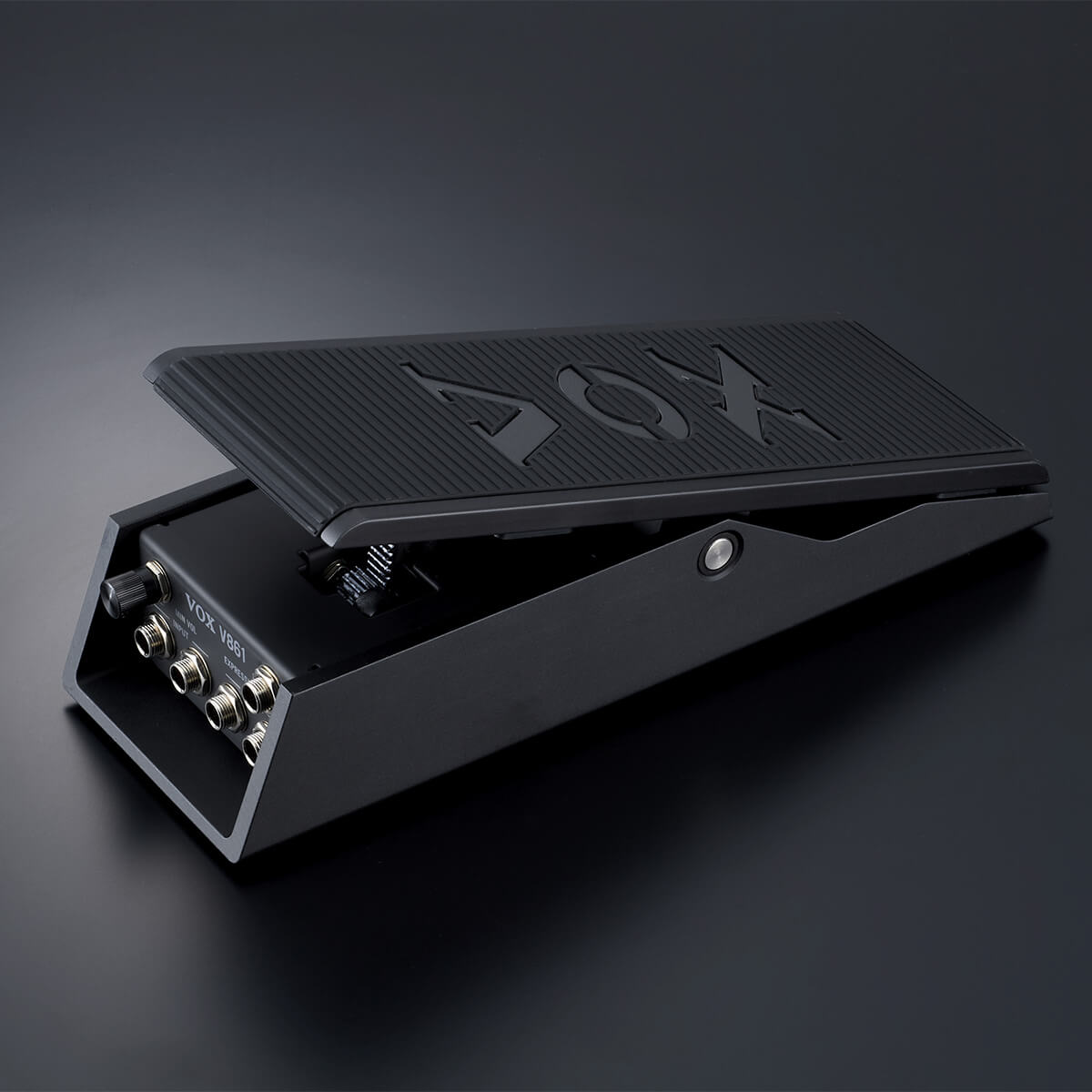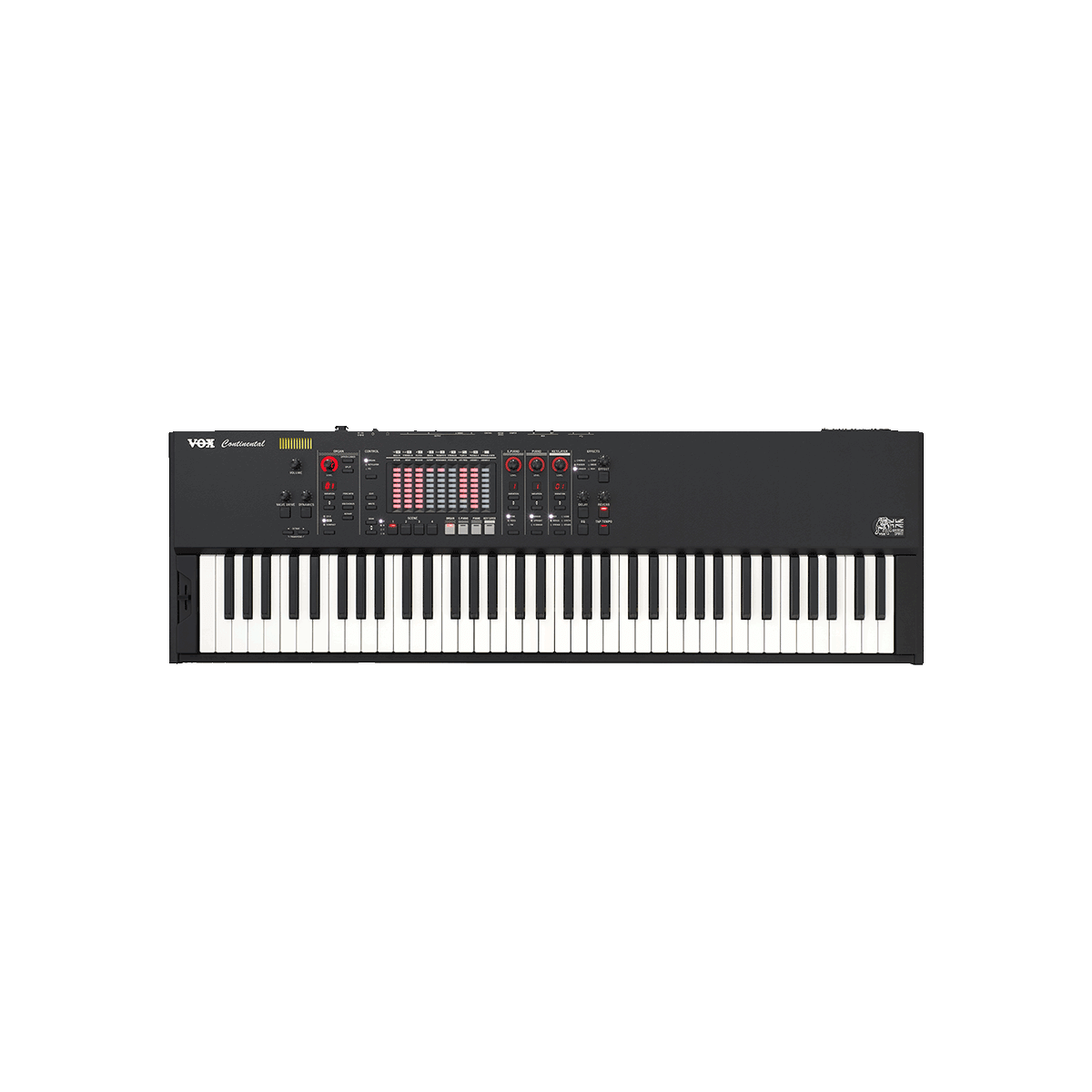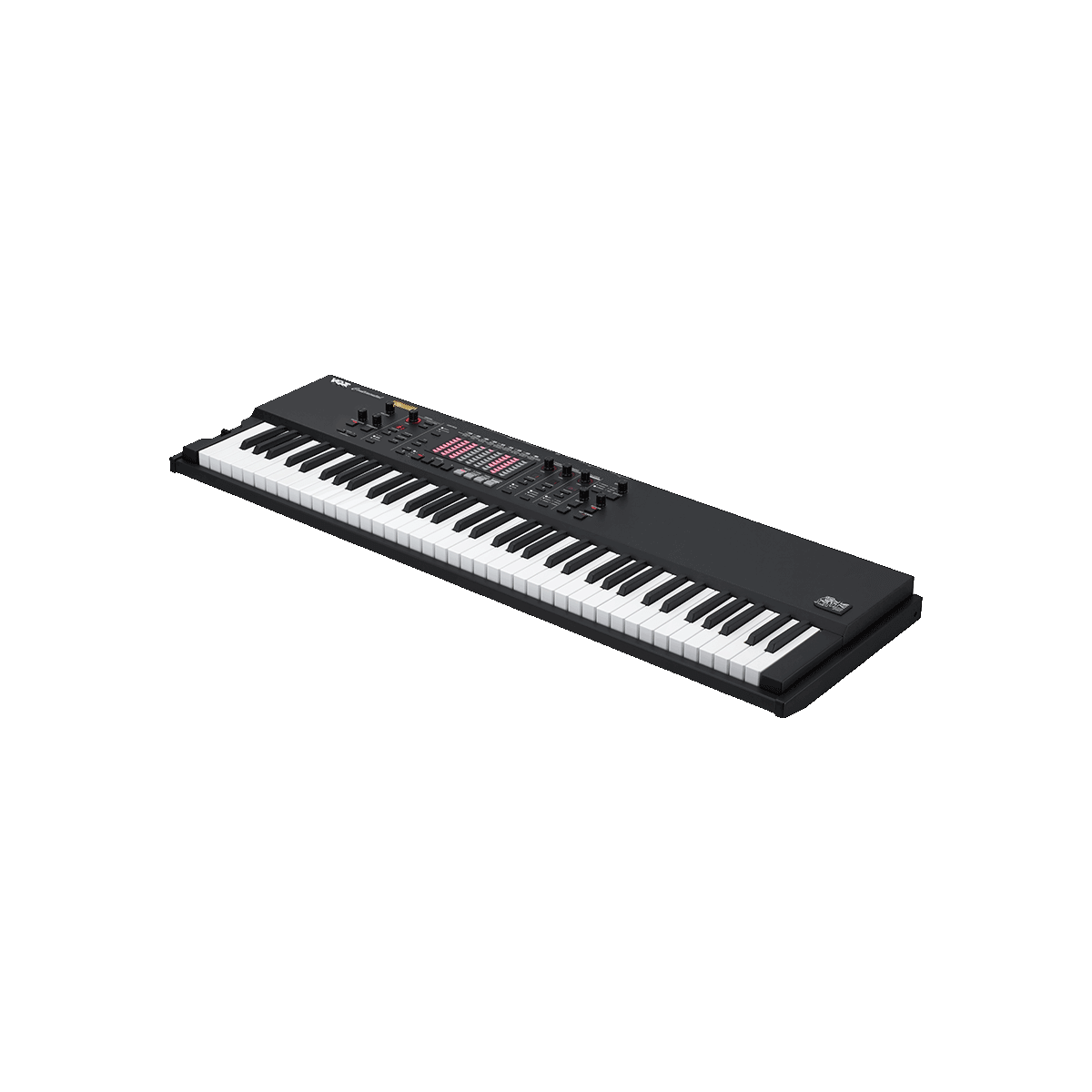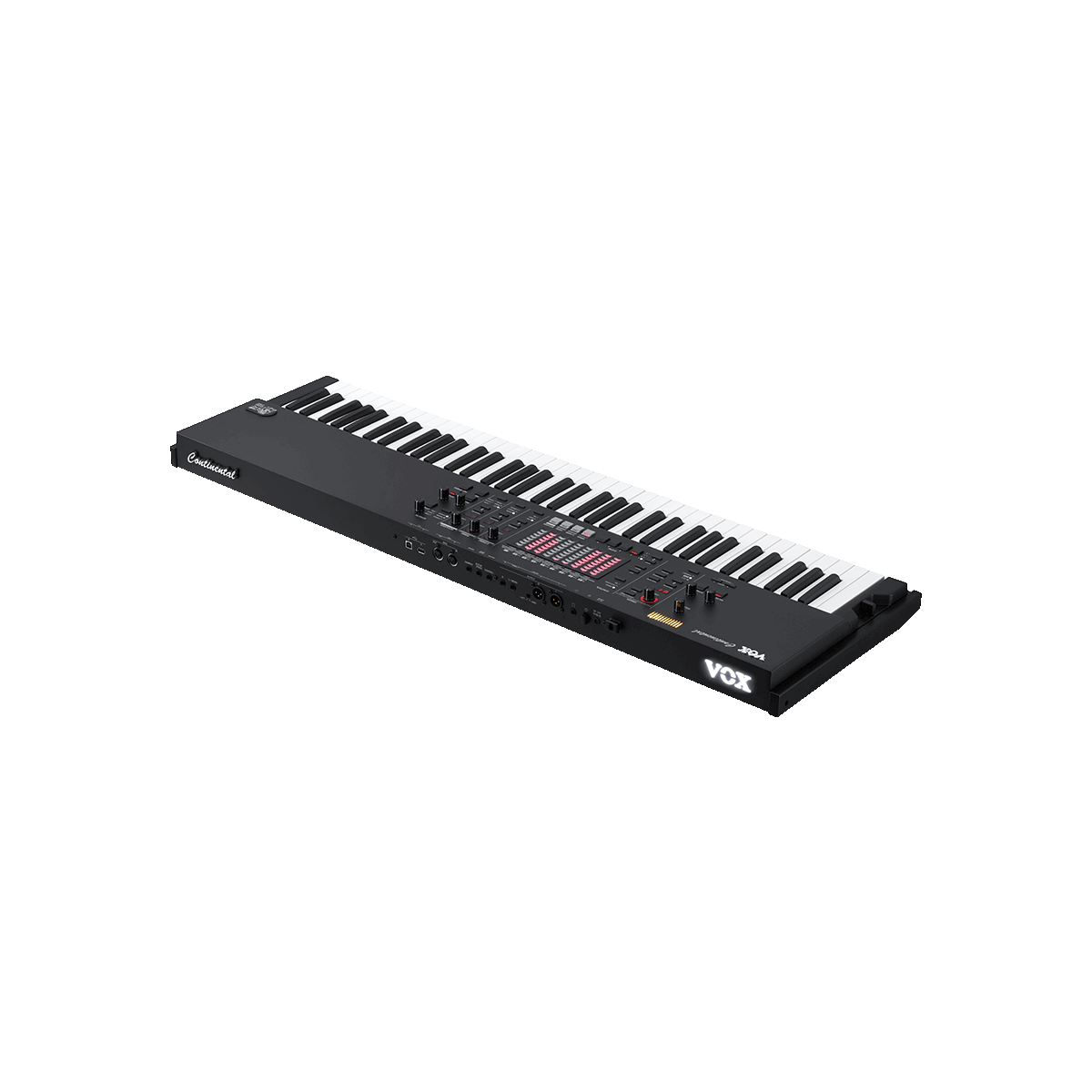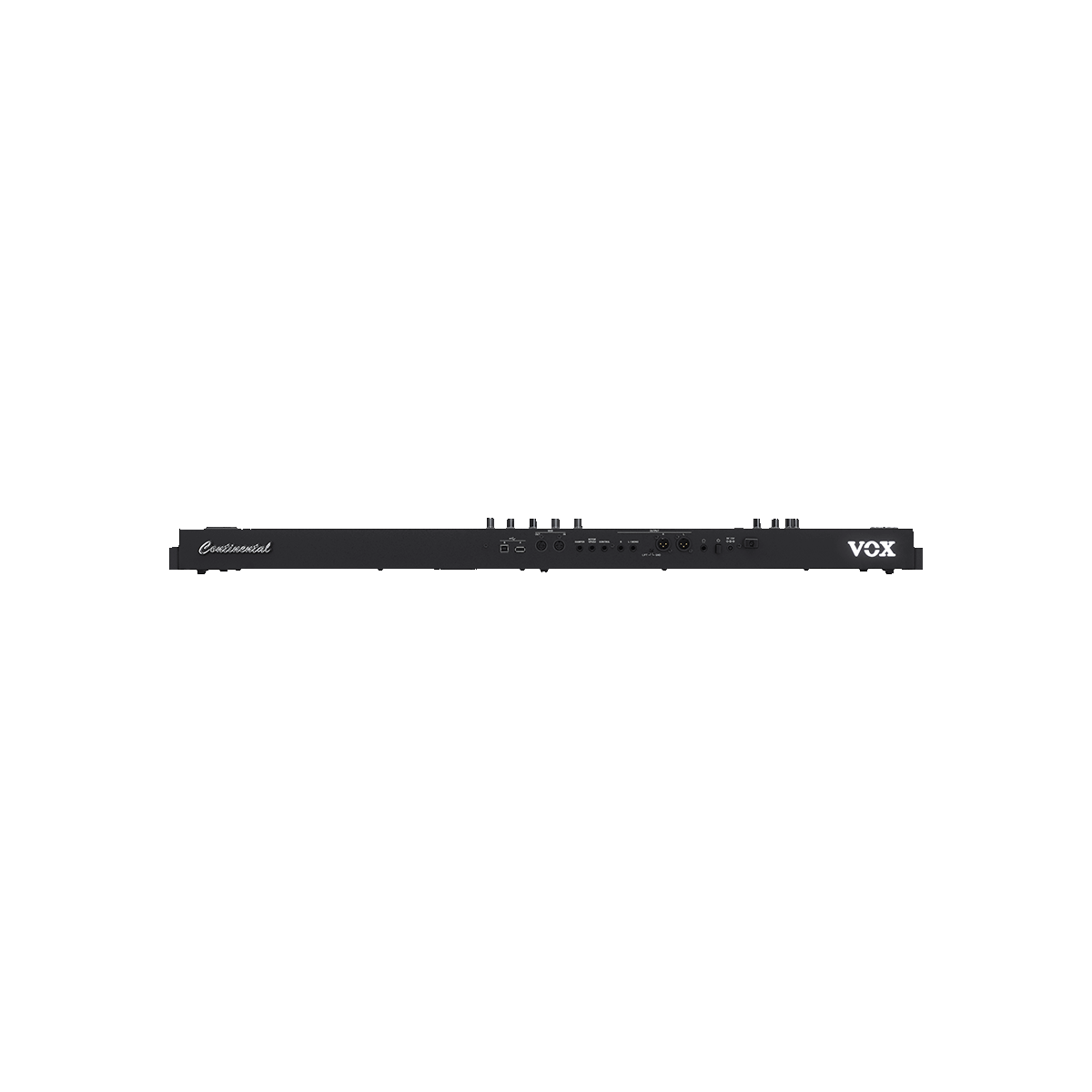 CONTINENTAL 73 BK
A Classic 73-Key Performance Keyboard
A classic that defined the sounds of the 60's is back with modern features optimized for stage or studio! The VOX Continental 73BK is full of expressive, stage-ready presets, all packed into a rugged yet light design that's perfect for gigging. Multiple sound engines deliver expressive, dynamic, and responsive pianos, EP's Organs, synth sounds, and more. Dial in the perfect layer or split, effects, drawbar & EQ settings instantly with easy, dedicated on-panel controls.
Intuitive user interface that emphasizes playability on stage
ORGAN part that meticulously models three vintage organs
High-quality E.PIANO part with attention paid to every detail
Rich PIANO part powered by high-capacity samples
KEY/LAYER part with a wide range of variations

Included V861 volume/expression pedal
specs and features optimized for live performance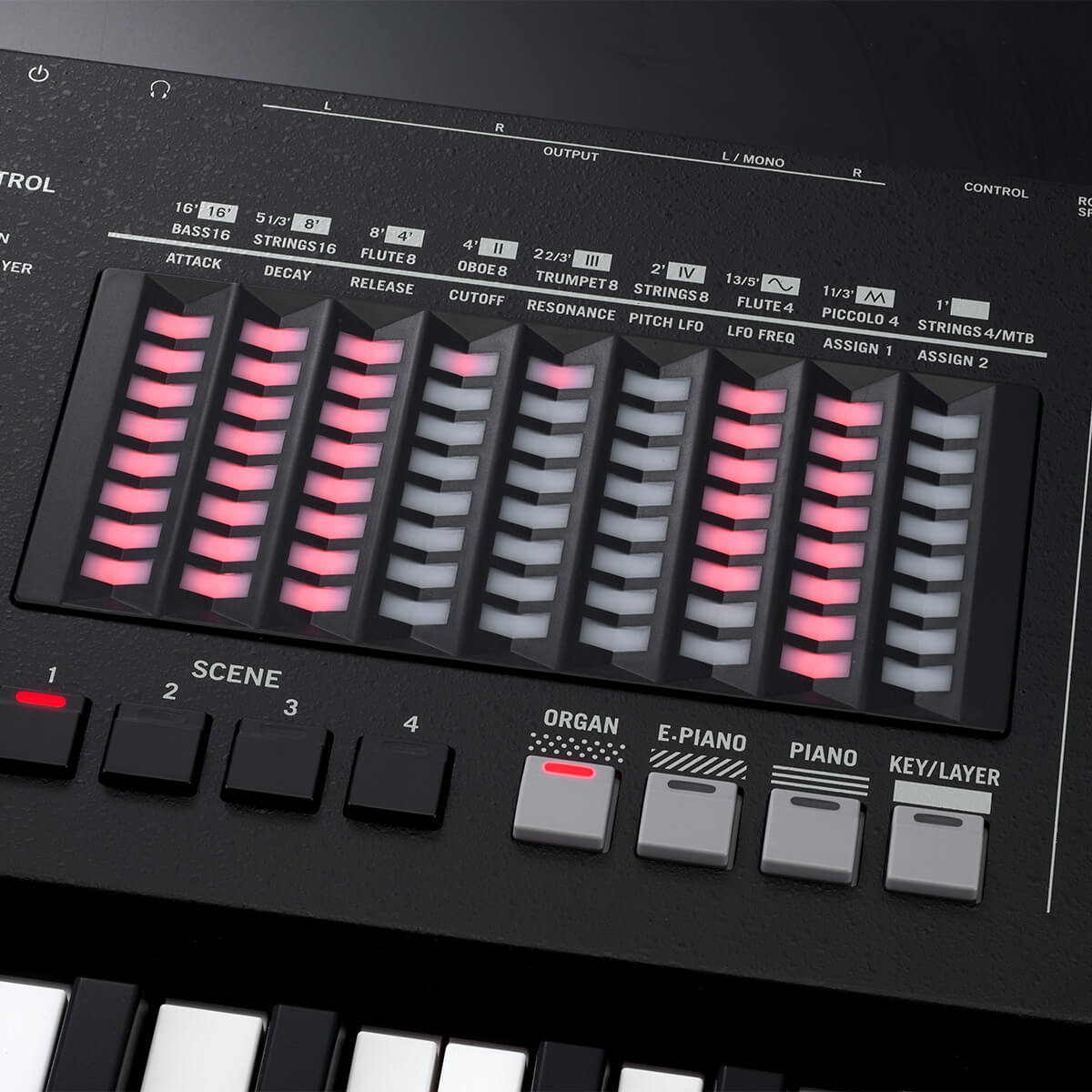 Intuitive interface with virtual touch drawbars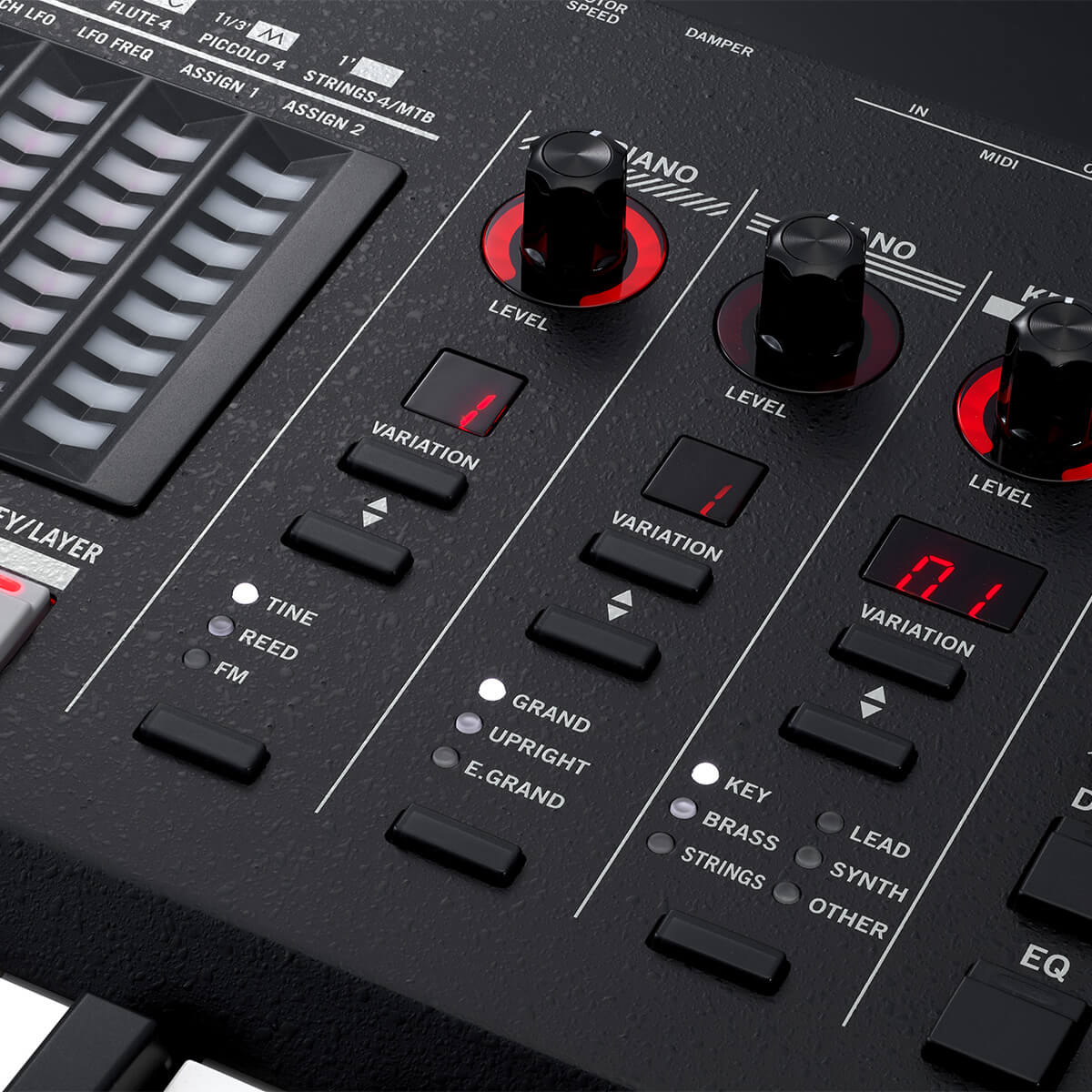 Packed with quality sounds onboard, including organ, acoustic and electric pianos, and strings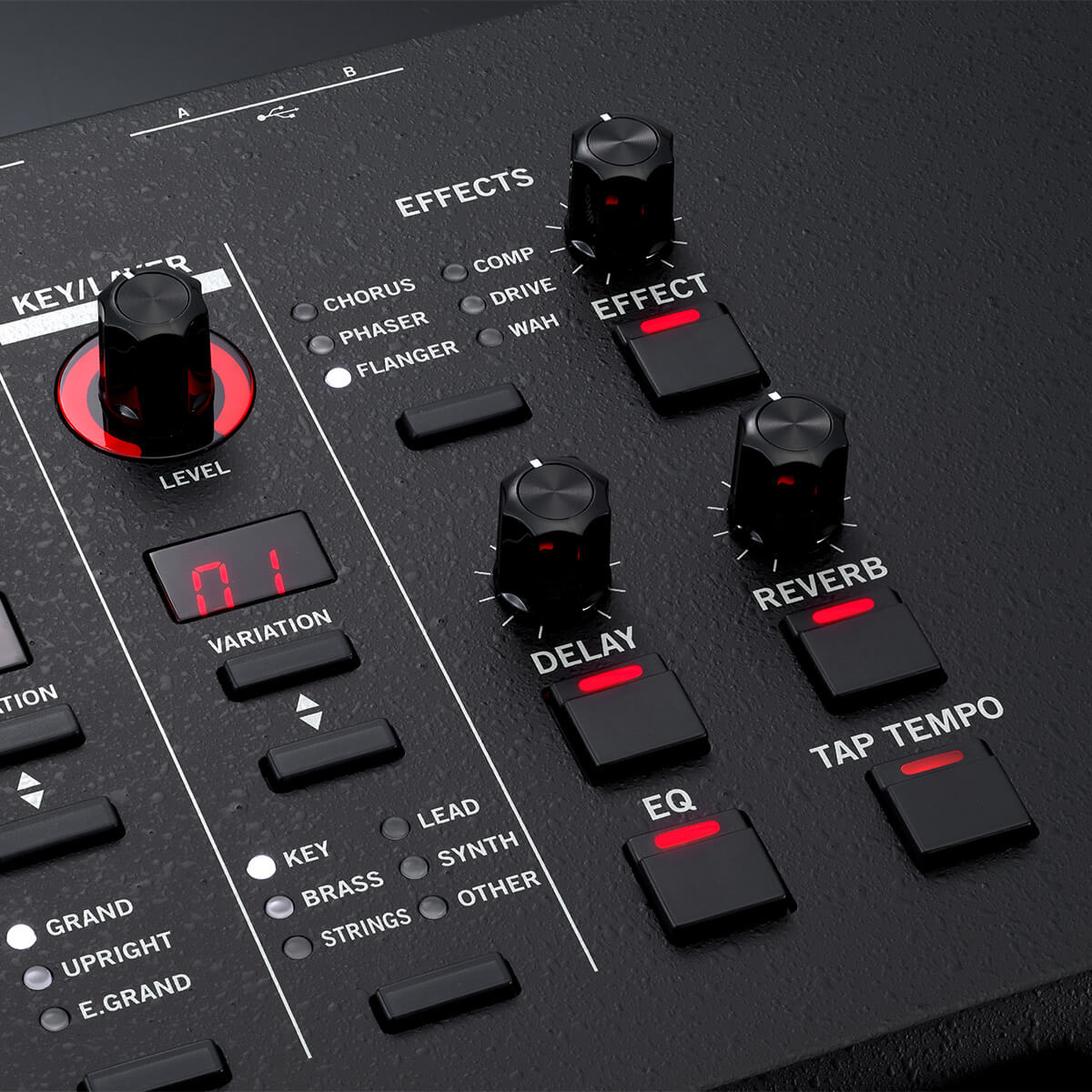 Roadworthy aluminum chassis; XLR outputs
KEYBOARD
Semi-weighted waterfall (velocity sensitive is supported, after touch is not supported)
73 keys: E1–E7 (transposable in the range of [E-1…C5]–[E3…E9]), velocity sensitive E1 to E7

Sound Generator

Maximum Polyphony
Modeling tonewheel organ sound generator: 128 voices
Modeling transistor organ sound generator: 100 voices
Modeling electric piano sound generator: 80 voices
High-definition Piano sound generator: 60 dual stereo notes (equivalent to 240 voices max)
Modeling analog synthesizer sound generator: 36 voices
PCM sound generator: 64 stereo notes (equivalent to 128 voices max)

*Actual maximum polyphony will vary depending on oscillator settings such as stereo multisamples and velocity crossfade.

PCM Memory
Approx. 10.5 GB (in case of 48 kHz, 16-bit Linear PCM converted)

ORGAN Part
3 types (CX-3, VOX, COMPACT)
Draw bar, Percussion ON/OFF, Split function, Vibrato/Chorus ON/OFF, Rotary Speaker ON/OFF)

E.PIANO Part
3 types (TINE, REED, FM)

PIANO Part
3 types (GRAND, UPRIGHT, E.GRAND)

KEY/LAYER Part
6 types (KEY, BRASS, STRINGS, LEAD, SYNTH, OTHER)

Preset variations
150

Scene
64 (4 x 4 x 4)
100 sets can be saved to an external USB drive

Effects

Insert Effects
EFFECT: CHORUS, PHASER, FLANGER, COMP, DRIVE, WAH (control via pedal)

Master Effects
DELAY: 1. DELAY, 2. CROSS, 3. TAPE, 4. MOD DLY
REVERB: 1. HALL1, 2. HALL2, 3. ROOM1, 4. ROOM2, 5. SPRING

EQ
9-band stereo input/output

VALVE DRIVE
Vacuum tube Nutube 6P11

DYNAMICS
Control the amount of change in volume and tone produced by your keyboard playing dynamics.

Controllers

Bend Lever
ORGAN: Rotary Slow/Fast
E.PIANO: Tremolo ON/OFF
KEY/LAYER: Pitch bend

Touch sensors (electrostatic capacitance type)
ORGAN: Drawbars
KEY/LAYER: Sound controls
EQ: 9 band equalizer

Audio Characteristics

Frequency Characteristics
20Hz–22kHz ±1.0dB 10k Ω load

THD+N
20Hz–22 kHz 0.005% (standard) 10k Ω load

S/N Ratio
105dB (standard)

Audio Output

OUTPUT L/MONO, R
Connector: 6.3 mm (1/4″) monaural phone jack, unbalanced
Output impedance: 1.1 Ω (when outputting in stereo), 600 Ω (L/Mono jack, when outputting in mono)
Maximum level: +16.0 dBu
Load impedance: 10k Ω or more

OUTPUT L, R
Connector: XLR-3-32 type (balanced) + LIFT – GND switch
Output impedance: 350 [Ω] (when outputting in stereo)
Maximum level: +16.0 [dBu]
Load impedance: 10k Ω or more

HEADPHONES
Connector: 6.3 mm (1/4″) stereo phone jack
Output impedance: 50 Ω
Maximum level: 150 + 150 mW @32 Ω

Control Inputs

DAMPER
KORG DS-1H damper pedal (supports half-damper), PS-1 and PS-3 pedal switches

ROTOR SPEED
KORG PS-1 and PS-3 pedal switches

CONTROL
V861 volume/expression pedal

Others

MIDI
IN, OUT

USB
USB A (TYPE A): Saving/loading scene data
USB B (TYPE B): MIDI interfaces: 1 (16 ch) in/1 (16 ch) out
Complies with USB specification Ver. 2.0, High speed (up to 480 Mbps)

Included Items
AC adapter, Power cord, V861 Volume/Expression pedal, Attachable Wooden Side Panels
* Attachable Wooden Side Panels are a special accessory for the 73key BK model only.

Accessories (sold separately)

Soft case
SC-Continental 73

Damper Pedal
KORG DS-1H

Pedal Switch
KORG PS-1
KORG PS-3


* All products names and specification names are trademarks or registered trademarks of their respective owners.
* Appearance and specifications of products are subject to change without notice.

Specifications and features are subject to change without notice.
PRODUCT DIMENSIONS (W x D x H)
1,103 mm x 350 mm × 86 mm/ 43.43″ × 13.78″ × 3.39″
PRODUCT WEIGHT
8.4 kg / 18.52 lbs
POWER
AC adapter connector (DC 15 V) (included), power button

POWER CONSUMPTION
16W